Bible Study 📖 Week 6
Toldot | תולדות | "Generations / Family History"
Torah: Genesis 25:19 - 28:9
Prophets: 1 Samuel 20:18-42; Malachi 1:1 - 2:7
Brit Hadasha: Luke 3:1-22; Romans 9:10-16; Hebrews 12:14-17
and yes... I spent more time in the NT this week.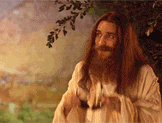 ---
Torah Portion
Genesis 25:19 - 28:9
Oh so much to unpack here. For a long time I thought, "poor poor, dear Esau. Who had his birth rights and blessing stolen from him." However now, I feel like I understand why this is referenced in the Brit HaDasha portion of next week's Parashah.
---
Prophets
1 Samuel 20:18-42
Malachi 1:1 - 2:7
---
Brit Hadasha
Luke 3:1-22
So I saw a ton of parallels, quite a mash-up of really awesome teaching! There's so much there to unpack in just the first few passages of scripture there in Luke. It's so overwhelming, the writers of Brit-Hadasha really (I mean really) read the Hebrew Scriptures (that's the first 5 books of your Bible), they understood and kept Torah!
Verses 7-9 loosely parallel Romans 2:17 - 3:4 and Romans 11:13-16
Verses 10-14 loosely parallels Deuteronomy 15:7-11 Exodus 30:11-16
The coolest thing about this account in the book of Luke, was how the beginning points to the end and the end points to the beginning, reminding both sides from end to end, how they fit together perfectly.
Romans 9:10-16
Seems like more case building for Paul in justification and reconciliation for every human being, to be a part of his family in his kingdom.
Hebrews 12:14-17